at Friday, 13 July, 2007
Bao Xishun
is the tallest man in the world, He stands
2.36 meters
(7 feet and 9 inches)! He's also known as Xi Shun or "The Mast". Since January 15, 2005, has been recognized by Guinness World Records as the world's tallest living man.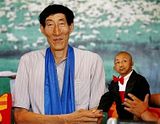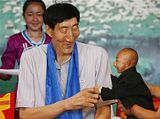 He Pingping
is the shortest man in the world, who only measures
73 centimeters
(2 feet and 5 inches). He is applying for the Guinness World Record as the world's shortest man.
An interesting fact is that both 'He Pingping' and 'Bao Xishun' are from Inner Mongolia!
When The Shortest Man In The World Met The Tallest
-
These bloopers are hilarious

Bao Xishun, a herdsman from Chifeng, Inner Mongolia, was recently married in a traditional ceremony to a 28-year-old saleswoman from his hometown. At 5ft 6" Xia Shujian only comes up to his elbow and is half his age.

He claims he was of normal height until he was 16 when he experienced a growth spurt and reached his present height seven years later.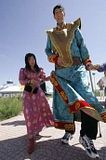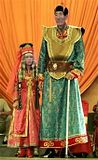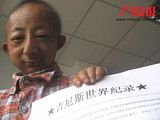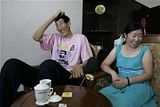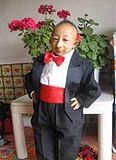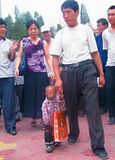 Mr Pingping was born nearby in Wulanchabu city, Inner Mongolia. His father claims he was only the size of an adult's palm at birth.